Posts for: September, 2018
By J. Viana Paiva, Jr., D.D.S., P.A.
September 20, 2018
Dental crowns are an essential means for restoring damaged or unattractive teeth. A well-crafted crown not only functions well, it looks and blends seamlessly with the rest of the natural teeth.
Crowns are artificial caps that cover an entire visible tooth, often used for heavily decayed or damaged teeth or as added protection after a root canal treatment. Most crowns are produced by a dental lab, but some dentists are now creating them in-office with computer-based milling equipment. On the whole, the various crowns now available function adequately as teeth—but they can vary in their appearance quality.
In the early to mid 20th Century the all-metal crown was the standard; but while durable, it could be less than eye-pleasing. Although more life-like dental porcelain existed at the time, it tended to be brittle and could easily shatter under chewing stress.
Dentists then developed a crown that combined the strength of metal with the attractiveness of porcelain: the porcelain fused to metal or PFM crown. The PFM crown had a hollow, metal substructure that was cemented over the tooth. To this metal base was fused an outer shell of porcelain that gave the crown an attractive finish.
The PFM reigned as the most widely used crown until the mid 2000s. By then improved forms of porcelain reinforced with stronger materials like Lucite had made possible an all-ceramic crown. They're now the most common crown used today, beautifully life-like yet durable without the need for a metal base.
All-ceramics may be the most common type of crown installed today, but past favorites' metal and PFM are still available and sometimes used. So depending on the type and location of the tooth and your own expectations, there's a right crown for you.
However, not all crowns even among all-ceramic have the same level of aesthetic quality or cost—the more life-like, the more expensive. If you have dental insurance, your plan's benefits might be based on a utilitarian but less attractive crown. You may have to pay more out of pocket for the crown you and your dentist believe is best for you.
Whatever you choose, though, your modern dental crown will do an admirable, functional job. And it can certainly improve your natural tooth's appearance.
If you would like more information on dental restorations, please contact us or schedule an appointment for a consultation.
By J. Viana Paiva, Jr., D.D.S., P.A.
September 10, 2018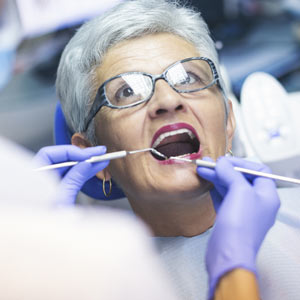 September is National Gum Care Month, an ideal time to talk about how to keep your gums healthy. Unfortunately, nearly half of adults have gum disease, which can damage the soft tissue and bone supporting the teeth. In fact, advanced gum disease is the number one reason for tooth loss among adults, and it's associated with other health problems, including cardiovascular disease, diabetes and pregnancy complications. But there's good news—gum disease is preventable and, in its early stages, even reversible. Here are some tips for taking care of your gums:
Keep up a good oral hygiene routine
Gum disease begins with plaque buildup, so attack the plaque in your mouth with good dental hygiene. Spend two minutes morning and night brushing all surfaces of your teeth, and floss once a day to get rid of plaque that forms between teeth.
Use a soft toothbrush
The American Dental Association recommends brushing gently with a soft toothbrush. Hard bristles can damage your gums and cause them to pull away from the teeth.
Swish with a mouth rinse
Consider using a mouth rinse. Over-the-counter and prescription oral rinses are available to help wash away food debris, reduce plaque and fight gum inflammation.
Say no to tobacco
Smoking is one of the biggest risk factors for developing gum disease. And it's not just cigarettes but all forms of tobacco, including e-cigarettes, pipes and chewing tobacco, that raise your risk of gum disease.
Eat a healthy diet
For the best gum health, avoid refined carbohydrates (sugary and starchy foods) and make sure you are getting enough vitamin C, vitamin D and antioxidants (found in berries and green tea, for example). In addition, studies suggest that a diet rich in omega-3 fatty acids may reduce your risk of gum disease and other inflammatory conditions. These healthy fats are found in many fish, nuts, seeds, soy products and vegetable oils.
Come in for regular cleanings
Professional dental cleanings can remove plaque from the tiny spaces that are difficult to reach by simply brushing and flossing. And once plaque hardens to form calculus (tartar), it cannot be removed during your regular oral health care routine at home. Further, at the dental office we can detect gum disease in its early stages—and the earlier gum problems are caught, the more easily they can be reversed.
Taking care of your gums will help you put your best smile forward now and in the future. If you have questions about gum health, call the office or schedule a consultation.