Posts for tag: gum disease
By J. Viana Paiva, Jr., D.D.S., P.A.
December 19, 2018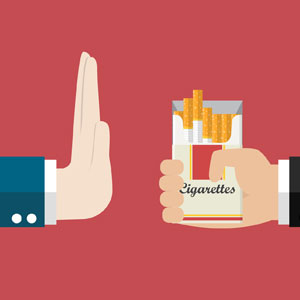 Your risk for periodontal (gum) disease increases if you're not brushing or flossing effectively. You can also have a higher risk if you've inherited thinner gum tissues from your parents. But there's one other risk factor for gum disease that's just as significant: if you have a smoking habit.
According to research from the U.S. Centers for Disease Control (CDC), a little more than sixty percent of smokers develop gum disease in their lifetime at double the risk of non-smokers. And it's not just cigarettes—any form of tobacco use (including smokeless) or even e-cigarettes increases the risk for gum disease.
Smoking alters the oral environment to make it friendlier for disease-causing bacteria. Some chemicals released in tobacco can damage gum tissues, which can cause them to gradually detach from the teeth. This can lead to tooth loss, which smokers are three times more likely to experience than non-smokers.
Smoking may also hide the early signs of gum disease like red, swollen or bleeding gums. But because the nicotine in tobacco restricts the blood supply to gum tissue, the gums of a smoker with gum disease may look healthy. But it's a camouflage, which could delay prompt treatment that could prevent further damage.
Finally because tobacco can inhibit the body's production of antibodies to fight infection, smoking may slow the healing process after gum disease treatment.  This also means tobacco users have a higher risk of a repeat infection, something known as refractory periodontitis. This can create a cycle of treatment and re-infection that can significantly increase dental care costs.
It doesn't have to be this way. You can substantially lower your risk of gum disease and its complications by quitting any kind of tobacco habit. As it leaves your system, your body will respond much quicker to heal itself. And quitting will definitely increase your chances of preventing gum disease in the first place.
Quitting, though, can be difficult, so it's best not to go it alone. Talk with your doctor about ways to kick the habit; you may also benefit from the encouragement of family and friends, as well as support groups of others trying to quit too. To learn more about quitting tobacco visit www.smokefree.gov or call 1-800-QUIT-NOW.
If you would like more information on how smoking can affect your oral health, please contact us or schedule an appointment for a consultation. You can also learn more about this topic by reading the Dear Doctor magazine article "Smoking and Gum Disease."
By J. Viana Paiva, Jr., D.D.S., P.A.
October 30, 2018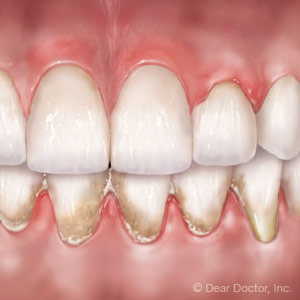 You have a great smile: beautiful white teeth all perfectly aligned. But unbeknownst to you, periodontal (gum) disease might even now be damaging your gum tissues, setting the stage for future tooth and bone loss — and a ruined smile.
While it's easy to miss the early stage of this disease caused by bacterial plaque on tooth surfaces, there are a few signs if you pay close attention. Bleeding gums after moderate brushing or flossing could indicate normally resilient gum tissues have begun to weaken. You may also notice a slight redness and swelling around the margins of the gums and a bad taste or breath. As it progresses, you may experience painful abscesses (infected pockets that develop between the gums and tooth) and loose teeth, a late sign of tissue detachment and bone loss. If you are a smoker, nicotine reduces swelling and bleeding of the gums, removing signs you have a disease. If you smoke, you need to see your dentist regularly.
While renewed daily oral hygiene is important for stopping gum disease, you may also need professional care to bring it under control. The main treatment calls for the manual removal of plaque and calculus (hardened deposits of plaque) that are sustaining the infection. Dentists and hygienists both can perform scaling, which removes plaque and calculus at or just below the gum line, and root planing to clean accessible root surfaces.
In more advanced cases, though, you may need the services of a periodontist, a specialist in treating diseased or injured gums, bone and other connective tissues that support the teeth. They're also skilled in more advanced treatments like gum flap surgery that more fully exposes a tooth's root area for plaque and calculus (or tartar) removal, or tissue grafting procedures that improve the health and appearance of damaged gums.
If you suspect you have gum disease, the place to start is with your family dentist. They can determine if your case will respond to basic scaling, root planing or antibiotic treatment. If the disease appears more advanced or with complications, they will most likely refer you to a periodontist for treatment.
If you've already seen bleeding, swelling or redness, see your dentist as soon as possible. The sooner you begin treatment for any case of gum disease, the less likely it will lead to the loss not only of your teeth but your beautiful smile.
If you would like more information on the treatment of periodontal (gum) disease, please contact us or schedule an appointment for a consultation. You can also learn more about this topic by reading the Dear Doctor magazine article "When to See a Periodontist."
By J. Viana Paiva, Jr., D.D.S., P.A.
September 10, 2018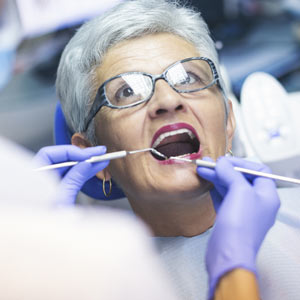 September is National Gum Care Month, an ideal time to talk about how to keep your gums healthy. Unfortunately, nearly half of adults have gum disease, which can damage the soft tissue and bone supporting the teeth. In fact, advanced gum disease is the number one reason for tooth loss among adults, and it's associated with other health problems, including cardiovascular disease, diabetes and pregnancy complications. But there's good news—gum disease is preventable and, in its early stages, even reversible. Here are some tips for taking care of your gums:
Keep up a good oral hygiene routine
Gum disease begins with plaque buildup, so attack the plaque in your mouth with good dental hygiene. Spend two minutes morning and night brushing all surfaces of your teeth, and floss once a day to get rid of plaque that forms between teeth.
Use a soft toothbrush
The American Dental Association recommends brushing gently with a soft toothbrush. Hard bristles can damage your gums and cause them to pull away from the teeth.
Swish with a mouth rinse
Consider using a mouth rinse. Over-the-counter and prescription oral rinses are available to help wash away food debris, reduce plaque and fight gum inflammation.
Say no to tobacco
Smoking is one of the biggest risk factors for developing gum disease. And it's not just cigarettes but all forms of tobacco, including e-cigarettes, pipes and chewing tobacco, that raise your risk of gum disease.
Eat a healthy diet
For the best gum health, avoid refined carbohydrates (sugary and starchy foods) and make sure you are getting enough vitamin C, vitamin D and antioxidants (found in berries and green tea, for example). In addition, studies suggest that a diet rich in omega-3 fatty acids may reduce your risk of gum disease and other inflammatory conditions. These healthy fats are found in many fish, nuts, seeds, soy products and vegetable oils.
Come in for regular cleanings
Professional dental cleanings can remove plaque from the tiny spaces that are difficult to reach by simply brushing and flossing. And once plaque hardens to form calculus (tartar), it cannot be removed during your regular oral health care routine at home. Further, at the dental office we can detect gum disease in its early stages—and the earlier gum problems are caught, the more easily they can be reversed.
Taking care of your gums will help you put your best smile forward now and in the future. If you have questions about gum health, call the office or schedule a consultation.